Her Domainers Receive Awards at SXSW 2003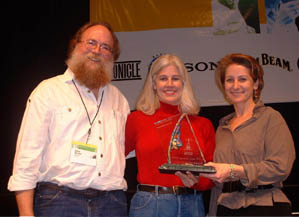 Accepting the 2003 TIM Award for Outstanding Achievement in Training, Instructional Designer Alan Buller, Her Domainer/HCI Training CEO Mary Haskett, and Dell Training Administrator Laura Arnold.
Dewey Winburne Community Service Award
HD member Teresa Sansone Ferguson and Jayne Cravens (former HD member) were co-winners of the Dewey Award.

Girlstart webmaster and HD member Bianca Bickford was nominated for the Dewey Award. Bickford is one of the main forces behind Girlstart, an Austin-based online destination which averages 500,000 visits per year. She is responsible for the site's design and content, which includes cool science, book reviews, contests, polls, brace face diaries, and more! Bickford's award-winning websites and online curriculum teach girls programming and are used in schools all over Austin.

HD member

Monica Roesch

was also nominated for the Dewey Award. Monica is one of the chief organizers of the Texas Interactive Media (TIM) Awards, which are given to outstanding Lone Star technology projects during SXSW Interactive. Monica also produces "X+," an exhaustive and advertising-free listserv newsletter that informs hundreds of Austinites about relevant technology-related organizations, meetings, and job openings.
Texas Interactive Media (TIM) Awards,
HD member Mary Haskett and the HCITraining team: Outstanding Achievement in Training (Dell: Finance for Professionals)
HD member Marilyn Fenn: Notable achievement in the personal category. Fine art website, http://www.marilynfenn.com.
(Some info courtesty of SXSW site)
If you have complete details of other awards received by Her Domain members, or photos of HD'ers at SXSW, please forward all to the Web Adminstrator.
---